Import and edit existing scores and tabs
We support MusicXML (xml / mxl) and MIDI (mid / midi) files, and recommend you to use MusicXML files if you import sheet music from another software (you will have the exact music notation imported to Flat).
You can also import the following non-standard files formats to Flat. Please note that we don't offer an official support for them, they are provided to help you importing your existing files.
MuseScore: mscz
TuxGuitar files: tg
Guitar Pro files: gp (v7 and v8), gpx (v6), gp5, gp4, gp3
Power Tab Editor: ptb
To create your first music score with Flat and get starting writing your music notation or tabs, create a free account on our platform.
On Flat, go to My Library, then drag & drop your XML/MXL file. You can also click on the Import a score or tab button, or New score or tab and choose Import your creation: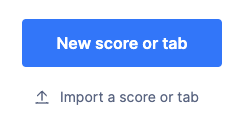 Choose your file(s) to import, and they will be directly added to your Flat account.
You can export your scores back in MusicXML from Flat and open them with most of the software available on the market.
Need help to export your files from another software and import them on Flat? Check out the dedicated help pages below: