Composition assignments
There are various kinds of activities and assignments you can create in Flat for Education. Create engaging assignments that stimulate student creativity as they learn and advance within music notation. Whether through individual activities or collaborative efforts, students can work on skills ranging from dictation and harmony to transposition.
Create a composition assignment directly through the Resource Library. Go to the Resource Library and click on +New assignment.

Alternatively, you can create an assignment directly from a class as well. Click on +New Assignment. Please note that the assignments created on the class page directly will only be saved to the Resource Library once they are published, and not if they are in draft state.
Start by naming your assignment. This assignment name will be displayed each time Flat for Education refers to this assignment.

There are 3 kinds of assignments and activities that you can create using our music notation editor.

Your students will have to create a new score, work on it according to your instructions, and send it back to you.
Each of your students will get a copy of one of your scores to start from. You can imagine many different activities from there:
Find the mistakes
Complete the intervals/chords
Write a missing part
Finish the composition
... The possibilities are endless.
Once your students are done, they can send their work for evaluation with just one click.
You can get more information regarding template assignments on this page.
This is for creating a group activity with all the students working on the same piece in real-time.
While we don't have a limit on the number of participants, we recommend keeping the number of students on the same group activity below 15.
If you choose "Template" or "Shared writing", you will need to select one or multiple scores that will be used for your assignment.
Click on "Select score" and choose a score from your Flat for Education account, either created using our editor or imported to your account.
Once a score is chosen, it will be displayed as such: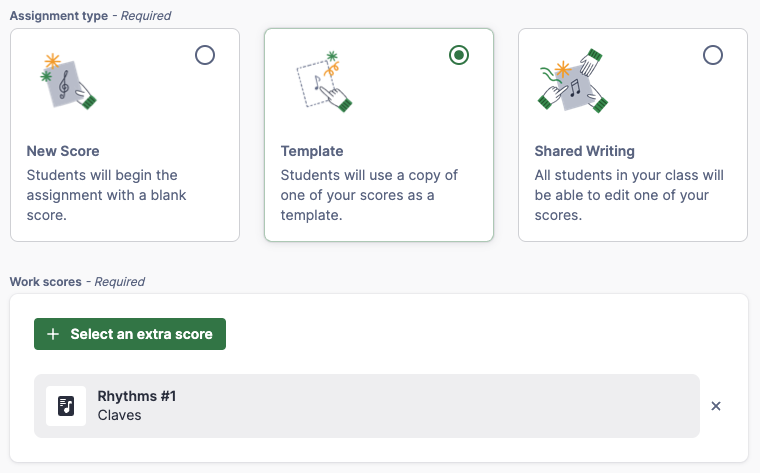 You can then add instructions to your new assignment. These can either be a bit of text you write directly into your assignment, or an attached file or link. You can attach all the resources you need: documents, presentations, videos, audio files, read-only scores, etc.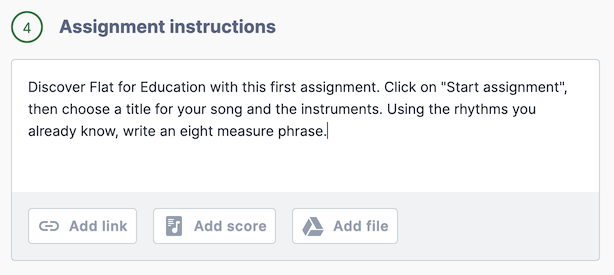 Finally, you can add some extra options to your assignment: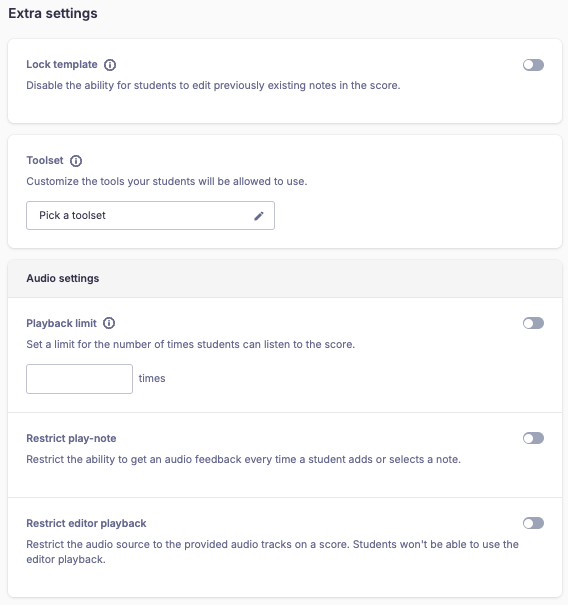 Now that your assignment is ready you can post it. If you want to see how your students will experience Flat for Education, check out our dedicated article.
Now that your assignment is available to your students you can follow their progress. Check out our dedicated article to learn more about how to review and give feedback to your students.
For more information on how to use the composition assignments, watch this video tutorial!
Flat for Education's music editor enables you to compose online, opening the door to collaboration with other students and teachers. Featuring real-time collaboration, edit history, colored notes, and high-quality instruments, the editor is a powerful tool that brings today's technology into the service of music learning. Below are some video tutorials to help you navigate the editor and understand how you can use it to create engaging composition assignments for your students, as well as how your students can benefit from using it on their own!
Editor basics - Video tutorial
Notation tools 1 - Video tutorial
Notation tools 2 - Video tutorial