Using Blackboard with Flat for Education

Using Blackboard Learn for your music courses? Flat for Education is the best solution to create any music notation activity in Blackboard. Flat provides seamless integration with Blackboard: SSO (Single Sign-in), rostering and assignments with Flat for Education.
On this help page you will discover how to:
If you need any help to configure or use Blackboard with Flat for Education, please contact us at edu@flat.io.
It only takes a couple of seconds to set up Blackboard with your Flat for Education account.
Go to your Account Settings > Integrations > LTI and copy the Consumer Key and Shared Secret. Keep these details private - they allow Blackboard Learn to access your Flat for Education school account.
As a Blackboard Learn admin, open your Blackboard website, then go to your "System admin, under "Integrations", click on "LTI Tool Providers", then "Register Provider Domain".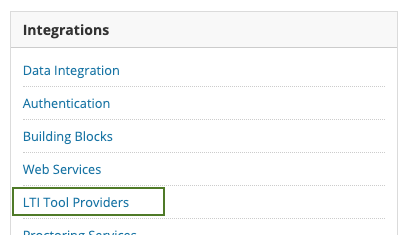 Register the following provider domain (see a screenshot of the full page):
Provider domain status:

Provider domain: flat.io
Provider Domain Status: Approved

Default Configuration:

Default Configuration: Set globally
Tool Provider Key and Tool Provider Secret: Your credentials from step 1)

Institution policies:

Send User Data: Send user data only over SSL
User Fields to Send: You can choose here which data and PII your LMS will send to our servers. The minimum required information is Role in Course. Optionally, you can send a Name and Email Address if you want to have them displayed in our apps; otherwise, Flat for Education can work without any PII.
Then click on "Submit" to save the domain configuration.
To create a Course Content Tool placement, click on the arrow next to our domain and choose "Manage placements", then click on the Create placement button: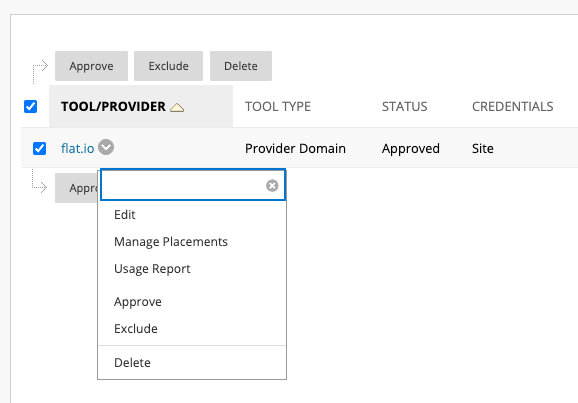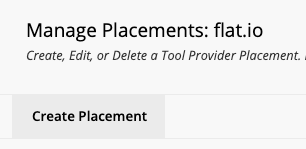 Placement Information:

Label: Flat for Education
Handle: flat-edu-course-content (this can be whatever you want)
Availability: Yes
Type: Course content tool with Allows grading.
Launch in New Window: We recommend enabling this option. Flat for Education will be opened in a full tab, which is a good idea to have a better experience, especially on a small screen.

Tool provider information

Tool Provider URL: https://flat.io/lti/launch
Tool Provider Key and Tool Provider Secret will already be set from your global settings.
Then click on "Submit" to save the course content tool configuration.
To create a new activity using Flat for Education in your Blackboard Learn instance, open a course and turn the Edit mode on.
Under the Content page, click on Build content and choose Flat for Education.
On the Blackboard content creation page, you can add at least a Name for the activity. Optionally you can enable Grading to have your grades automatically pushed to Flat for Education. Click on Submit to save the assignment on Backboard.
Once your content is created on your Blackboard site, open it to complete the Flat for Education configuration. Choose if you want to create a Score assignment or a Worksheet assignment and adjust the settings. Make sure you click on Publish to make the assignment available to your students.
That's it, your assignment is ready! As soon as your students open the assignment from your Blackboard course, you will see their names listed on the Flat for Education assignment page, have access to their work and be able to give them live feedback.