Add or remove Articulations
An articulation in music gives instructions on how to play a note or move between notes. This applies to both individual notes and groups of notes.
Place your cursor on the note where you wish to add an articulation, then go to the "Articulation" toolbar and select the desired articulation. To remove the articulation, simply click on the same icon one more time.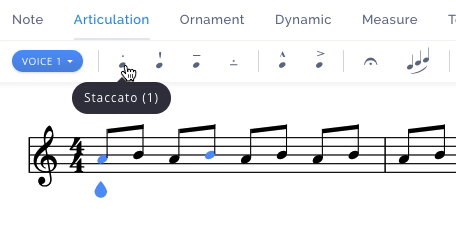 To add the same articulation to a group of notes, make the range selection and then add the articulation: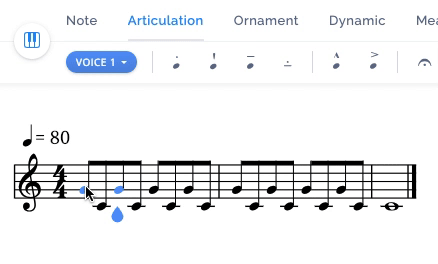 | Feature | Toolbar | Icon |
| --- | --- | --- |
| Staccato | Articulation | |
| Staccatissimo | Articulation | |
| Tenuto | Articulation | |
| Detached Legato | Articulation | |
| Accent | Articulation | |
| Marcato | Articulation | |
| Doit | Articulation | |
| Fall off | Articulation | |
| Plop | Articulation | |
| Scoop | Articulation | |
| Fermata | Articulation | |
| Slur | Articulation | |
| Breath Mark | Articulation | |
| Caesura | Articulation | |
| Drum roll | Articulation | |
| Buzz roll | Articulation | |